Sweet Stitches Quilt Shop October 2019 Newsletter


SSQS Journal
Issue 26 October 2019
October 2019
Hello Everyone,
It's that time of year again where we fall in love with Fall and all the beauty this season brings. It is so inspiring to see the leaves changing. For me, this is really my favorite part of Autumn, it is like living in an ever-changing painting. Add to that pumpkins on porches, the smell of apples and cinnamon, cozy sweaters and quilts to cuddle under on a cool night and you have the perfect season.
We hope to get outdoors to enjoy the season this year but things are really happening in the shop and we are busier than ever. We have had many travelers stopping in the shop during the months of August and September on their trips across the country as they head for vacations and family reunions all while stopping at different quilt shops along the way. We meet so many interesting people doing what we do. We are just coming off a busy weekend where we visited the String-A-Long Quilt Guild Retreat up in Cassopolis, Michigan where we did demonstrations and set up a Pop Up Quilt Shop too. After the retreat we drove over to Steger, IL to set up our booth at the Pieces & Patches Quilt Show for Saturday and Sunday. The weather was testing us with a torrential downpour that had us wondering if we should have brought the boat. We got through it a little wet and cold, but set up and ready for the show. The ladies of Pieces & Patches put on a wonderful little show and we were glad to be part of it.
We are now back home, back to the shop and planning for our next big event that we have happening this Friday, October 4 our second big AccuQuilt Event of the year. We welcome National Accuquilt Instructor Carol Tompkins who will give two talks with demonstrations on how to get more out of your AccuQuilt Die Cut System. This is not our typical First Friday Demonstration Day where friends are welcome to drop in and see what the theme is for the month, this time we asked that you register to be part of the AccuQuilt Day. We have 70 quilters signed up and we had to cut it off there to keep things comfortable for everyone. If you signed up for the event and you will not be able to attend, we ask that you call the shop 219-250-5942 to let us know that you will not be able to make it as soon as possible as we have a waiting list of quilters who would like to attend if there is an opening.
The following week we will visit the Quiltmakers of Kankakee where I will give a talk at their October 10 meeting, bring our Pop Up Shop and give a workshop the following day. We will then have a week at the shop to get ready for the Heritage Quilters of Crown Point Show that will take place on October 26 & 27 at the Lake County Fairgrounds. Mark your calendar this is a great show with lots of quilts on display and shopping to enjoy. That will round out our October at the shop but not to worry we have some big things happening in November too - read on to find out our big news!
May All Your Stitches Be Sweet,
Joan
---

---

accuquilt Advanced Learning Event
Friday, October 4th
Sweet Stitches will hold our second accuquilt in shop event on Friday, October 4th.
The event features Carol Tomkins, an accuquilt National Educator.

Carol will present a two part training/education class that will include sessions:
"Go Beyond the Basics" and "There's a Die for That"


Gifts / Drawings / Lite Lunch / New Ideas!

Doors Open at 10am - First Session begins at 10:30am



Registration for this Event is Now CLOSED


If you would like to be placed on our waiting list please contact the Shop.

The Arkansas Traveler is a special cutting Die that will ONLY be available to Event participants on the day of the training class.
---
Go! Play Day!

Thursday October 17, 2019 10:30am-4:30pm
Are you an accuquilt Go! Owner?
We would love you to bring your die cutter and join us for a day of accuquilt play!
Every third Thursday of the month Darla will share tips, tricks and techniques to help you get the most out of your accuquilt Go! cutter and dies.
The October Go! Play Day! will feature More Tips and Tricks.
Bring your cutter, your dies, and your sewing machine.
You are also welcome to bring your own project to work on too.
This event is Free for Accuquilt Owners, Come Join us!

Drop-ins are welcome however, if you can, please call the shop or click here to register so we have an approximate number to best prepare projects and our classroom space.

Cut Time, Quilt More! With accuquilt!
---
October Class Schedule is Set!
We have a full calendar of classes for October!
You can link to our October Calendar Here!
---
Sweet Stitches On the Road
Upcoming Events



October 4, 2019
accuquilt Advanced Learning Event
Sweet Stitches Quilt Shop
October 10 & 11, 2019
Sweet Stitches On the Road
Quiltmakers of Kankakee Workshop and Pop-up Shop

October 26 & 27, 2019
Heritage Quilters Quilt Show
"Quilt Roundup 2019"
Crown Point, Indiana

November

14

, 2019
String-A-Long Quilt Guild
Workshop/Presentation

January 8, 2020
Glennwood Quilt Guild
Workshop and Pop-up Shop
Glennwood, Illinois

January 18, 2020
Porter County Homemakers
Workshop and Pop-up Shop
Camp Tecumseh - Brookston, IN

April 21 & 22, 2020
South Holland Quilt Guild

Workshop and Pop-up Shop
South Holland, Illinois
March 20 & 21, 2020
Appleseed Quilt Show
Fort Wayne, Indiana
April 4 & 5, 2020
String-A-Long Quilt Guild
"Generations of Quilters" Quilt Show
---
Homestead Betty Modern Sampler Block of the Month
The Month 9 Block for our "Homestead Betty" Block of the Month is ready for pick up as of October 4th.

This Sweet Little Red & White Pieced Quilt is made in the Maywood Studio Fabric line "The Little Things". The quilt hanging in the shop was assembled by Linda Poparad and quilted by Judy Holden. A new block will be released on the first Friday of each month.
---
Our **NEW** BLOCK OF THE MONTH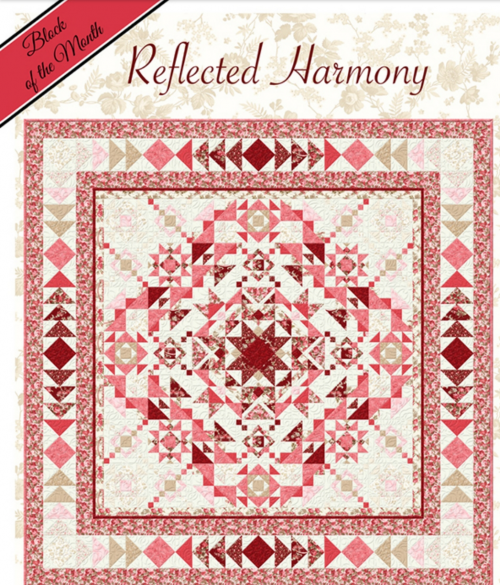 Our new Block of the Month is all ready! This beautiful quilt was pieced in the shop and was quilted by Judy Holden. It looks fantastic!

Block Number One will be ready for pick up as of October 4th.
---
**First Friday Demo for November**
Sweet Stitches Quilt Shop is proud to announce that we are now a
Janome Authorized Dealer!

To celebrate, we will hold an Advanced Janome/Elna Learning Seminar to be held Friday, November 1st and Saturday, November 2nd. Each day will feature National Sewing Machine expert Sam Fung. Sam is a successful sewist with nearly 4 decades of experience many of which were running his own design studio making wedding gowns, bridesmaids dresses, home décor, costumes, hats and pretty much anything that can be sewn.

Additionally, Sam will assist to launch Sweet Stitches as BOTH an Elna and Janome Authorized Dealer and Sam will present several new sewing machine models that will soon be available at the shop.

We are excited to bring these educational events to the quilting and sewing community and as always, this seminar will be free of charge.
Pre-registration for the Friday or the Saturday Session will be required (The sessions are the same each day and limited in size).
Click Here to register.


---
Quilters of all skill levels can find encouragement, inspiration and creativity at Sweet Stitches Quilt Shop. Located in Chesterton, Indiana just a few miles from the natural beauty of the Indiana Dunes National Lakeshore, Sweet Stitches Quilt Shop is your destination for fabrics, notions and all things quilting. We carry a wide variety of brights, batiks and reproduction fabrics as well as notions, patterns, books and Elna sewing machines. Our large classroom offers students everything they need to learn and grow their quilting talents. From fabric selection to project advice to training on your new machine, our friendly, knowledgeable staff is ready to assist. Stop by the store or click the "Shop Online" link to view our wide variety of products ready to ship direct to your door.
1585 South Calumet Road Chesterton, IN 46304
219.250.5942
www.sweetstitchesquiltshop.com

Follow Us on Facebook