Skip Navigation
Website Accessibility
Sweet Stitches Quilt Shop Septemer 2019 Newsletter


SSQS Journal
Issue 25 September 2019
September 2019
Hello Everyone,
The end of Summer is upon us, goodbye August and Hello September!
September is one of the best months of the year because it is a great mixture of both summer and fall. The summer flowers are still blooming bright but the leaves on the trees are starting to turn into the rich golden colors of autumn. September days are still warm like those of summer but the nights are cool enough to curl up with a quilt. Planning for the winter ahead is something all quilters do in the fall - we would hate to be caught in an Indiana snowstorm without something to work on. As quilters we tend to gather our projects like farmers bringing in the end of summer harvest, quilters visit quilt shops to harvest cotton bundles to get us through the winter. Some of us harvest cotton year-round though - we are just extra prepared! However you plan to spend your end of summer and the beginning of fall, we hope you take in the beauty of the season, harvest what you can and enjoy the fruits of your labor this coming winter may they be fruits, vegetables or fabric.
Come see the harvest we have for you at our next First Friday of the Month Demonstration Day September 6 at 10:30 am (Doors open at 10:00am) "Leaf it to Us" to show you all the Leaf inspired quilty treasures you can make to welcome Fall. It's Free! Come Join Us!
May All Your Stitches Be Sweet,
Joan
---

Go! Play Day!

Thursday September 19, 2019 10:30am-4:30pm
Are you an accuquilt Go! Owner?
We would love you to bring your die cutter and join us for a day of accuquilt play!
Every third Thursday of the month Darla will share tips, tricks and techniques to help you get the most out of your accuquilt Go! cutter and dies.
The September Go! Play Day! will feature More Angles.
Bring your cutter, your dies, and your sewing machine.
You are also welcome to bring your own project to work on too.
This event is Free for Accuquilt Owners, Come Join us!
Cut Time, Quilt More! With accuquilt!
---

accuquilt Advanced Learning Event
Friday, October 4th
Sweet Stitches will hold our second accuquilt in shop event on Friday, October 4th.
The event features Carol Tomkins, an accuquilt National Educator.

Carol will present a two part training/education class that will include sessions:


"Go Beyond the Basics" and "There's a Die for That"


This is a FREE event, seating is limited,

Pre-Registration is Required.

You can register on-line or by contacting the Shop.


Gifts / Drawings / Lite Lunch / New Ideas!
The Arkansas Traveler is a special cutting Die that will ONLY be available to Event participants on the day of the training class.
Register today to hold your spot!

---
1st Friday Demo Day "Leaf it to Us!"
September 6th at 10:30 am
Leaf it to Us! Joan will have leaf inspired projects to get you ready for Autumn. Quilts, Table Runners, Place Mats, Bags with lots of tips, techniques and ideas that will Leaf you Falling for Autumn.

Join us on the First Friday of each month for Demonstration Day at the Shop!
---
September Class Schedule is Set!
We have a full calendar of classes for September!
You can link to our September Calendar Here!
---
Sweet Stitches On the Road


Upcoming Events


September 28, 29 2019


Pieces' n' Patches "Quilted Journey" Quilt Show


Steger, Illinois

October 4, 2019
accuquilt Advanced Learning Event
Sweet Stitches Quilt Shop
October 10 & 11, 2019




Sweet Stitches On the Road


Kankakee Quilt Guild Workshop and Pop-up Shop



October 26 & 27, 2019


Heritage Quilters Quilt Show
"Quilt Roundup 2019"
Crown Point, Indiana

November

14

, 2020


String-A-Long Quilt Guild




Workshop/Presentation



January 8, 2020


Glennwood Quilt Guild


Workshop and Pop-up Shop
Glennwood, Illinois



April 21 & 22, 2020


South Holland Quilt Guild

Workshop and Pop-up Shop
South Holland, Illinois



March 20 & 21, 2020


Appleseed Quilt Show
Fort Wayne, Indiana



April 4 & 5, 2020


String-A-Long Quilt Guild
"Generations of Quilters" Quilt Show

---
Homestead Betty Modern Sampler Block of the Month
The Month 8 Block for our "Homestead Betty" Block of the Month is ready for pick up as of September 6th.

This Sweet Little Red & White Pieced Quilt is made in the Maywood Studio Fabric line "The Little Things". The quilt hanging in the shop was assembled by Linda Poparad and quilted by Judy Holden. A new block will be released on the first Friday of each month.
---
Our **NEW** BLOCK OF THE MONTH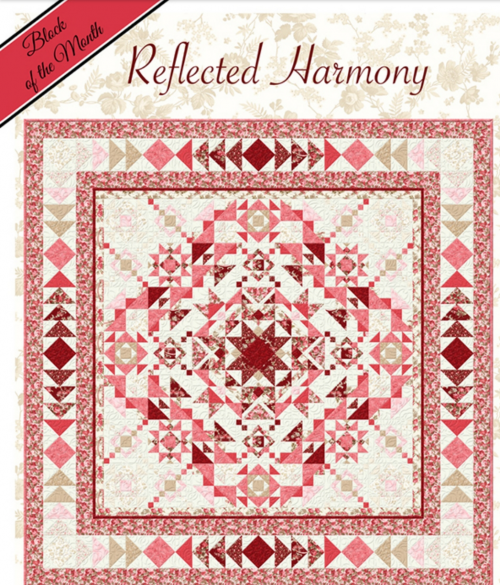 This upcoming Block of the Month will start in October. Please call or stop in the shop to get your name on the list. Participation will be limited and will be on a first-come basis. You can see the quilt during our September first Friday Demo Day.


---
A Machine Minute

General Maintenance and proper technique are critical for optimum performance of your sewing machine and project outcome.
Having a Bad Bobbin Day?
A properly wound bobbin is the foundation of a good stitch, yet bobbin winding is just one of those things that every quilter and sewist does nearly automatically, without much thought, it just needs to get done so we can keep sewing.
1) Use the correct bobbin for your machine. Just because they look nearly identical does not mean they are. Slight differences in geometry and size can greatly impact how the bobbin, bobbin case and hook race work together. They were designed as a mechanical team and for best results, keep the team together.
2) When preparing to wind your bobbin, follow your thread sequence and be certain that your thread is fully contacting the bobbin winding tension disk.
3) If you are using a machine without the easy winding system, be sure to pull your thread through the hole in the bobbin. Hold this thread tail as you begin to wind the bobbin. After several revolutions, cut the thread tail near the bobbin.
4) When winding a bobbin - Slow Down! The speed at which you wind your bobbin can impact its quality. Winding a bobbin at a fast speed is not best practice. In fact, running a bobbin at very high speeds can introduce unintended twists and variable tension within the bobbin that can negatively impact stitch performance. The goal when winding a bobbin is consistent tension and uniformity of the wind. A moderate speed is best when winding a bobbin.
5) Bobbins do not last forever. Especially true of the plastic bobbins, they wear, they can develop burrs and over time they can impact performance. Most new bobbins are very inexpensive and will last through many uses, just not indefinitely.
6) Do not overfill your bobbins. Do not be tempted to sew as long as you can with one bobbin. Exceeding the maximum fill of a bobbin (which is generally just shy of the outer edge) can cause non-uniform winding, variable tension and risk unintended thread droop within the bobbin case. None of which will help your stitches. Do not be tempted to run one color on top of another within a bobbin. This type of frugality eventually produces poor stitches and disappointing project outcomes.

7) Be sure to Install your bobbins so they spin in the correct direction. If you are unsure on how your bobbin is to be oriented, consult your sewing machine owner's manual or check with your favorite quilt shop!
8) A properly wound bobbin will look smooth with even layering. The finished bobbin will feel firm and will not feel spongy.
Follow these steps and you will always have a 'Good Bobbin Day'
---
Quilters of all skill levels can find encouragement, inspiration and creativity at Sweet Stitches Quilt Shop. Located in Chesterton, Indiana just a few miles from the natural beauty of the Indiana Dunes National Lakeshore, Sweet Stitches Quilt Shop is your destination for fabrics, notions and all things quilting. We carry a wide variety of brights, batiks and reproduction fabrics as well as notions, patterns, books and Elna sewing machines. Our large classroom offers students everything they need to learn and grow their quilting talents. From fabric selection to project advice to training on your new machine, our friendly, knowledgeable staff is ready to assist. Stop by the store or click the "Shop Online" link to view our wide variety of products ready to ship direct to your door.
1585 South Calumet Road Chesterton, IN 46304
219.250.5942
www.sweetstitchesquiltshop.com

Follow Us on Facebook