Sweet Stitches Quilt Shop August 2019 Newsletter


SSQS Journal
Issue 24 August 2019
August 2019
Hello Everyone!
We are in full summer swing here as we move into August today. It has been a summer of classes, demonstration days, Accuquilt Go! Play Days, a visit with an Illinois Guild and we just got home from another great trip to the One Stop Shop Hop in Kokomo, IN! We are not done yet though. Coming up August 2 (tomorrow) we will have a special First Friday Demonstration Day as Tim Prowse from Wilmington Fabrics will be here to show us the latest Trunk show of quilts made with Wilmington precut fabrics. We will have pre-cut quilt kits for many of the quilts you will see in the trunk show. Precuts are something new for Sweet Stitches and we want to know what you think. Is this something you want to see more of in the shop? We are always trying to find those items that help our quilters create beautiful quilts. Tim, our guest speaker for the day, will also talk about how fabrics are made and you will get a sneak peek at the new fabric lines that will be presented at Fall Market and you will also get to play buyer for the day and let us know what fabrics you would choose. There will be refreshments, goody bags and a little fabric sale too, so come join us for this First Friday Free Event just sign up here or give the shop a call to let us know that you are coming.
May all your Stitches be Sweet,
Joan
---
Wilmington Trunk Show
Friday, August 2nd

Doors open at 10 am Event starts at 10:30
Tim Prowse
of Wilmington Prints will be at the shop August 2nd, 2019
as our special guest speaker for the August First Friday Demo Day!

Tim will present a Trunk Show including Quilts / Projects / Ideas

You can play "Buyer for the Day" and see the new fabric lines
that will be coming out this fall and winter.

Gifts / Drawings / Much to Learn

You will need to register for this Free event. Seating will be limited.
You can register On-line or by calling the Shop

Note: Due to this months event, we will not have Free Sew Friday.
The classroom will open again on August 12th!
---

Go! Play Day!

Thursday August 15, 2019 10:30am-4:30pm

Are you an accuquilt Go! Owner?
We would love you to pack up your die cutter and join us for a day of accuquilt play! Every third Thusrday of the month Darla will share tips, tricks and techniques to get the most out of your accuquilt Go! cutter and dies.

The August Go! Play Day! will feature the Companion Set Angles.
Learn the many shapes and blocks you can make using this highly useful die set.
Bring your cutter, your dies, and your sewing machine.
You are also welcome to bring your own project to work on too.
This event is Free for Accuquilt Owners, Come Join us!

Cut Time, Quilt More! With accuquilt!

accuquilt Advanced Learning Event
Friday, October 4th


Sweet Stitches will hold our second accuquilt in shop event on Friday, October 4th
featuring an accuquilt educator presenting two training/education sessions.


Gifts / Drawings / Lite Lunch / New Ideas!


The Arkansas Traveler is a special cutting Die that will ONLY be available to Event participants on the day of the training class.
Hold the Date and Mark your calendars!


More details and registration information will be provided as the date nears.

---
August Class Schedule is Set!
We have a full calendar of classes for August!
You can link to our August Calendar Here!

We offer tutoring on quilting techniques, projects, machine basics, and operation.
Please call or email if you would like to schedule a group or private tutoring session!
219.250.5942
info@sweetstitchesquiltshop.com
---
Homestead Betty Modern Sampler Block of the Month
Month 7 Blocks for our "Homestead Betty" Block of the Month are ready for pick up as of August 2nd.

This Sweet Little Red & White Pieced Quilt is made in the Maywood Studio Fabric line "The Little Things". The quilt hanging in the shop was assembled by Linda Poparad and quilted by Judy Holden. A new block will be released on the first Friday of each month.
---
UPCOMING BLOCK OF THE MONTH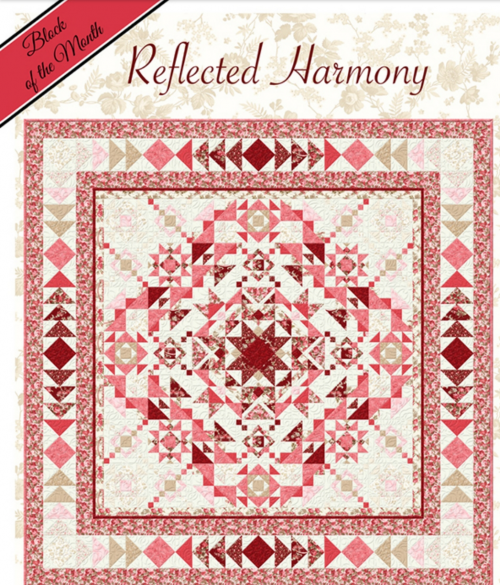 This upcoming Block of the Month is actively in production and will be in the shop soon.
We hope to begin in just a few short months. The details are still in the works, we do not have an official sign-up sheet, but if you would like to put your name on the list a little early for this beautiful BOM, please let us know!

---
A Machine Minute
General Maintenance and proper technique are critical for optimum performance of your sewing machine and project outcome.

A few tips from Rob's Basement Workshop

Tip #1 - Run a test. When starting a new project, set your machine up with the thread and fabric combinations that you intend to work with. Take a moment to run several test passes through a small test piece to be certain you have everything set and ready to go. Tension, needle, thread, stitch length, etc. Running a test allows you to make any needed adjustments and will ensure every stitch looks great on your project.

Tip #2 - Avoid Skipped Stitches at the turn. Often times you want to make a turn at a corner. Maybe a 90 deg, maybe something more or less. When making a turn, it makes sense to have your needle down to allow a pivot. In order to be certain the action of turning the fabric does not interrupt the stitch causing a missing or skipped stitch, you should manually turn the handwheel on your machine toward you until the needle goes down as far as it can and begins to move back up. It is at this point that the hook has captured the bobbin thread and this will ensure that the stitch will be made once the machine starts again. Perfect stitches in the corners every time!

Tip #3 - No Automatic Thread Cutter, No Problem. On machines without automatic thread cutters, have you ever had difficulty pulling the thread out in order to cut it? Most likely you moved the handwheel to free the thread. Some folks will tell you to look at the needle and raise it all the way up. While that is close, it does not bring all the internal parts of the machine in line to allow the thread to be free. If, as you turn the handwheel toward you, watch the uptake lever and stop at the point where the uptake lever is in its highest position. It is in this position that everything lines up and the thread will be free. (you will notice that when the update lever is at its highest point, the needle will have already started its travel down toward the fabric) Your thread will be free and clear and easy to move and cut.

---
FREE Sew Friday is taking a break this week to accommodate the Trunk Show.
The classroom will be open and available Friday, August 12th to anyone that would like to sit and sew and meet other quilters. As the name implies, it's FREE !
---
Quilters of all skill levels can find encouragement, inspiration and creativity at Sweet Stitches Quilt Shop. Located in Chesterton, Indiana just a few miles from the natural beauty of the Indiana Dunes National Lakeshore, Sweet Stitches Quilt Shop is your destination for fabrics, notions and all things quilting. We carry a wide variety of brights, batiks and reproduction fabrics as well as notions, patterns, books and Elna sewing machines. Our large classroom offers students everything they need to learn and grow their quilting talents. From fabric selection to project advice to training on your new machine, our friendly, knowledgeable staff is ready to assist. Stop by the store or click the "Shop Online" link to view our wide variety of products ready to ship direct to your door.
1585 South Calumet Road Chesterton, IN 46304
219.250.5942
www.sweetstitchesquiltshop.com

Follow Us on Facebook