Skip Navigation
Website Accessibility
Sweet Stitches Quilt Shop July 2019 Newsletter


SSQS Journal
Issue 23 July 2019
Hello Everyone!

Summer has finally arrived in Northwest Indiana and with it comes the many travelers who venture through our area each year. Indiana really is the crossroads of America and since the first week of June we have met so many interesting people from all over the country who are here to visit Lake Michigan, The Indiana Dunes National Park and to participate in the Row by Row Experience.
Sweet Stitches will do a little traveling this month as we are headed to Glenoak, IL to visit Quilters Plus with our Pop Up Shop and a class on the Woven Spiral Basket. We are excited to meet this fun bunch of quilters! July 26 & 27 we will head down to Kokomo, Indiana to be part of the "One Stop - Shop Hop" - 30 Quilt Shops in one convention center with shopping, demos, games & prizes. It is always fun to be part of this event.
First Friday of the Month Demonstration Day theme will be "Sew on the Go!" We will give you a sneak peek of the new ruler, patterns, projects and fabrics we will be taking on the road with us this month and we hope you will bring any Show & Tell you might have to share with us.
Looking forward, we have some exciting new products, demonstrations and events planned over the next few months that we are announcing in this newsletter.
Safe travels to those who are hitting the road this summer and Happy 4th of July to All!

May all your Stitches be Sweet,

Joan
---
1st Friday Demo Day "Sew on the Go!"
July 5th at 10:30 am
"Sew on the Go!" is our theme for our July 5th Demo Day. It's travel season for many of you and Sweet Stitches will be hitting the road this month visiting Quilters Plus in Glenoak, IL and the One Stop Shop Hop in Kokomo, IN. Our demo will give you sneak peek at the ruler we will be demoing in Kokomo and all the new patterns, fabrics and projects we will take on the road with us. Come join us for this free event!
Join us on the First Friday of each month for Demonstration Day at the Shop!
---

GO! Play Day!

Thursday July 18, 2019 10:30am-4:30pm

Do you own an Accuquilt Go!? We would love you to bring your die cutter and join us for a day of Accuquilt play! Darla will share the how to's of making 10" blocks from your 8" Qube or 11.25" blocks from your 9" Qube. Bring your cutter, your Qube and your sewing machine. You are also welcome to bring your own project to work on too. This event is Free for Accuquilt Owners. Preregistration is required. Click here to register or call the shop at 219.250.5942.

Come Join us! Cut Time, Quilt More! With Accuquilt!


---
Upcoming Events at Sweet Stitches Quilt Shop




Trunk Show

Tim Prowse of Wilmington Prints will be at the shop August 2nd 2019
as our special guest speaker for the August First Friday Demo Day

Tim will present a Trunk show including Quilts / Projects / Ideas
You can play "Buyer for the Day" and see the new fabric lines
that will be coming out this fall and winter.

Gifts / Drawings / Much to Learn

You will need to register for this Free event. Seating will be limited.
You can register On-line or by calling the Shop

_________________________________________________________



Advanced Learning Event

Sweet Stitches will hold our second accuquilt in shop event on Friday, October 4th.
We will have an accuquilt educator here at the shop for two training/education sessions.

Gifts / Drawings / Lite Lunch / New Ideas

Arkansas Traveler is a special cutting Die that will ONLY be available to Event participants on the day of the training class.



Hold the Date and Mark your calendars!
More details and registration information will be provided as the date nears.
---
ROW BY ROW 2019
Taste the experience is this years theme for Row x Row's Food. We have put together a tasty row this year, sample our " Taste Of Summer" Grill themed Row with all those Summertime favorites like Ribs & Chicken, Hamburgers & Hot Dogs, Skewers of Farm Fresh Veggies and of course Grilled Indiana Sweet Corn too. Row x Row Patterns are Free, one per person and if you want to make a row just like ours we have fabric kits available for purchase. We also have an extra kit this year for the grey & grass fabric borders too. Come Taste the Experience of Row X Row!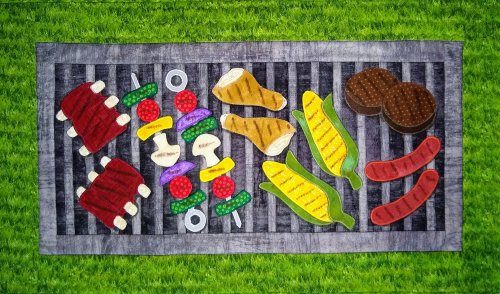 The Row by Row experience is a very good program that brings quilters to Brick and Mortar stores during the travel months. After the summer season ends, the shops are then permitted to sell the rows on-line.

To learn more:
Row by Row Experience
Indiana Row by Row Facebook page
---
---
July Class Schedule is Set!
We have a full calendar of classes for July!
You can link to our July Calendar here.

In addition to our formal class schedule, we offer tutoring on quilting techniques, projects, machine basics, and operation. Please let us know if you have suggestions or would like to schedule a group or private tutoring session!

---
Homestead Betty Modern Sampler Block of the Month
Month 6 Blocks for our "Homestead Betty" Block of the Month are ready for pick up as of July 1st.

This Sweet Little Red & White Pieced Quilt is made in the Maywood Studio Fabric line "The Little Things". The quilt hanging in the shop was assembled by Linda Poparad and quilted by Judy Holden. A new block will be released on the first Friday of each month.
---
UPCOMING BLOCK OF THE MONTH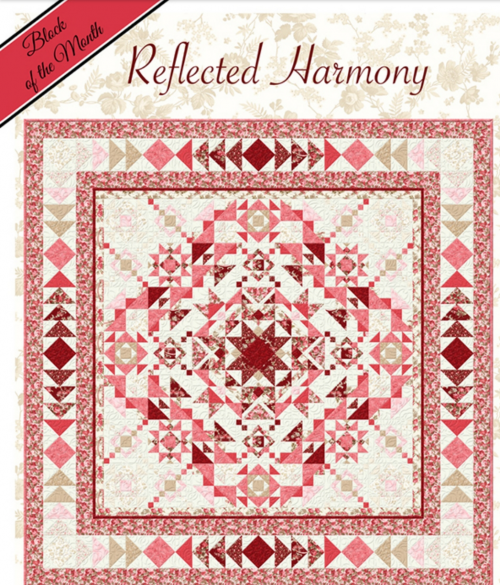 We all know Joan likes Red! It was not, however, our intention to have these two Block of the Month back to back, it is just how it worked out!
This upcoming Block of the Month is in production now and we hope to begin in a few months. The details are being developed, but if you would like to put your name on the list a little early for this beautiful BOM, please let us know!

---
Our classroom is available on Friday's from 10am until 4pm to anyone that would like to work on their sewing/quilting project. Use the space, meet new people and enjoy a day of sewing. Bring your machine or call ahead to reserve one of our classroom elna machines for the day!
---
A Machine Minute
General Maintenance and proper technique are critical for optimum performance of your sewing machine and project outcome.
Let's take a walk!
Your Walking Foot is a specialty presser foot that gives your sewing machine the ability to handle thick or unusual fabrics smoothly and easily. Sewing on Knits will flow through your machine without puckering. Slippery fabrics like minky will not slide all over the place. Thick multiple layers in quilts walk nicely together. Whether you have an adaptive walking foot with the bar that rests on the needle screw or an integrated adjustable feed as found on several of the elna machines in the shop, the walking foot is an excellent tool to ensure smooth movement of fabric through the machine.
A walking foot provides a second set of feed dogs that make all the difference when you are sewing in a straight line through multiple layers of material. The upper feed dogs help ensure the movement of all the layers in the same direction. When using a standard presser foot with multiple layers, the friction created by the foot can create tension and push the upper layers of material toward you, while the feed dogs pull the lower layers away from you. Using a walking foot corrects for this difference and provides smooth and even material draw through the machine.
A walking foot is a must-have accessory for straight line quilting because it keeps the layers together and prevents the top layer from getting pushed away from the middle and bottom layers. This prevents puckering and those tiny pleats that can occur when you change the direction of your quilted lines.
If you use a walking foot when sewing on a quilt binding, it will keep the top layer of the binding from shifting ahead of the bottom layer, which causes puckering.
A walking foot is excellent for bags, straps or attaching thick sew-in interfacing. They prevent those ripples on your straps and keep everything smooth. If your presser foot seems to be pushing the top layer instead of moving smoothly over it, switch to your walking foot.
While here at the shop we do not have much need to sew on stretch fabrics, many people use a walking foot when sewing with stretch fabrics with very good success.
A common question we receive is if it is okay to use your walking foot with decorative or satin stitches. The answer is Yes! You must, however, slow down your machine to allow the stitch to form evenly and you can only sew in a straight line. You might be able to stop and adjust your direction but the walking foot is built to draw your fabric evenly and straight through the machine. Attempting to rotate your fabric under a walking foot defeats the purpose and will create strain on the fabric and stitches that will diminish the performance.
So, go ahead, take a walk with your walking foot, it's a great tool for your sewing machine.
Integrated Adjustable Feed Foot Adaptive Walking Foot
---
Quilters of all skill levels can find encouragement, inspiration and creativity at Sweet Stitches Quilt Shop. Located in Chesterton, Indiana just a few miles from the natural beauty of the Indiana Dunes National Lakeshore, Sweet Stitches Quilt Shop is your destination for fabrics, notions and all things quilting. We carry a wide variety of brights, batiks and reproduction fabrics as well as notions, patterns, books and Elna sewing machines. Our large classroom offers students everything they need to learn and grow their quilting talents. From fabric selection to project advice to training on your new machine, our friendly, knowledgeable staff is ready to assist. Stop by the store or click the "Shop Online" link to view our wide variety of products ready to ship direct to your door.
1585 South Calumet Road Chesterton, IN 46304
219.250.5942
www.sweetstitchesquiltshop.com

Follow Us on Facebook