Sweet Stitches Quilt Shop December 2018 Newsletter


SSQS Journal
Issue 16 December 2018
Hello Everyone!
November was gobbled up and gone like grandma's pumpkin pie! It was a memorable month at the shop with all of the activity. First Friday Demonstration Day, A Veterans Day Pillowcase Sewing Event, two guild presentations, a few days off with family to celebrate Thanksgiving and then back at the shop for Small Business Saturday where we were blown away by the support of our customers and friends, we cannot thank you enough! The excitement of the month continued as we officially knocked a hole in the wall to start a shop expansion. A doorway to the suite next door has been created and work toward the new shop layout has begun.
We know that during December most of you will make holiday plans for travel, shopping, decorating, baking, wrapping and celebrating the season with family & friends. We too plan some time away and so we will offer only a few classes on the calendar for the month. Starting in the new year we will have a full class calendar and a new larger classroom, we can't wait! While the class schedule may be a little sparse, the month of December has a number of events and activities planned. We will have the final kits for the Block of the Month, Mystic Prism Quilt and the final clue for our Mid Month Mystery Quilt. We can't wait to see everyone's quilts! The First Friday Demonstration Day this month will feature "Dazzling Diamonds" as we talk about adding more diamond shapes to your quilting. We will host a Make & Take event with the new Chesterton Storypoint Retirement & Assisted Living Facility, Thursday, December 6th from 10:30-12:30. We will make Hexagon Christmas Ornaments. If you would like to make an ornament and meet some of our new neighbors from the Storypoint Retirement & Assisted Living Facility you are welcome to join us.
We are excited because the month of December will bring more than just presents under the tree, it's going to bring more space to shop for fabrics, notions and patterns with new products being added as the new year rolls in. Our new larger classroom will be a great space to take classes, attend special and monthly events like our First Fridays Demonstration Day, Weekly events like Free Sew Fridays where you can work on your quilt projects & meet new quilting friends. We will also have a new space devoted to our Elna sewing machines & accessories so you can come in, sit down and take our machines for a test drive to find a machine that is right for you and your quilt projects.
We may be growing in size but we will always remain the shop for Quilters of all skill levels to find encouragement, inspiration and creativity. Quilting has always been about more than making quilts, it is about community. All of us learning from and encouraging each other to create beautiful works of art, comfort for a friend, or someone in need, or maybe just something to warm our families and be passed down to future generations. Whatever your reason for quilting, we are glad to be part of your quilt community and thankful to have you part of ours!
May all Your Stitches be Sweet,
Joan
---
November was an exceptional month at Sweet Stitches. We would like to thank everyone that participated in the many events held last month. The month started with a standing room only Demo Day, what a great group that day! Thanks to the String-A-Long Stars and Stripes Quilts of Valor group for their assistance with our Veterans Day pillowcase project. We had nearly 20 people stop in to make a pillowcases. Thanks to the String-A-Long and the Michigan City Duneland Country Quilt guilds for the opportunity to speak at meetings in November, it was a pleasure to have the chance to meet with both groups. Thank you to the many great customers that stopped in on Small Business Saturday. Your support is very much appreciated. Thank you all !
---
Sweet Stitches is Growing!
As announced earlier this month, Sweet Stitches is expanding the store. As we quickly approach our second anniversary in January, we are working hard to ready our new space. We have opened a doorway between the current store and the suite next to us to nearly double our floor space. Over the next month, we will move the classroom and our machine displays into the new area. This will provide substantially more room and flexibility. The current retail space will be outfitted with new flooring, a new layout and an expansion of our product lines. We look forward to this next chapter for Sweet Stitches and will be excited to fully reveal our updates when we open the doors for the first time after the New Year for our Grand Re-opening 2nd Anniversary Expansion Event!

Holiday Schedule:

Sweet Stitches will be closed for Christmas and the New Years Holidays.
The shop will be closed December 23 through January 1, 2019.
The shop will reopen on Wednesday January 2, 2019.


---
First Friday December 7, 2018
Our First Friday in December Demonstration will be "Dazzling Diamonds".
Joan will have ideas, tips and techniques to share as she shows you how diamonds can be your best friend.

We will hold the demonstration in our new space utilizing our expanded stock of chairs, so don't worry, we will have a comfortable spot for you to join us for this Free Demonstration at 10:30 am December 7.

Feel Free to stay after the demonstration to utilize the classroom for our weekly Free Sew Friday. You are welcome to use the space to work on your projects, meet new quilters and seek design and technique assistance from Joan.
---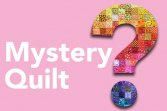 Middle of the Month Mystery
Just a reminder to all of you that participate in our Mid Month Mystery Quilt - Clue Number Eight (our LAST clue) will be available in the shop for you to pick up on or after December 15. There will be no emailed clue this month. You will need to stop by to collect the booklet. For those of you that requested, we will mail your clue booklet to the address you provided.

We hope you have enjoyed this Mystery project!
We would welcome show and tell as you complete the final pieces.
---
Block of the Month - Mystical Prism
For those of you participating in our Mystical Prism Batik BOM, your Month 12 Kit is now ready and available for pick up on or after December 1. This is the LAST month for this project and your kit will include all of the fabrics needed to complete your quilt. We hope you have enjoyed this project and we look forward to seeing your work at the shop!


---
Homestead Betty Modern Sampler Block of the Month

Sweet Stitches is pleased to announced our next Block of the Month, "Homestead Betty". A Sweet Little Red & White Pieced Quilt made in the Maywood Studio Fabric line "The Little Things". The quilt was assembled by Linda Poparad and is being quilted by Judy Holden as we speak and will be hanging in the shop soon. We are planning a February start with sign-ups in January. This is a beautiful quilt and fabric line that will be a great project for the upcoming year.
---
A Machine Minute
General Maintenance and proper technique are critical for optimum performance of your sewing machine and project outcome.
It might be obvious to say - oil is essential for the efficient, smooth operation of your sewing machine. Lack of lubrication will cause moving parts of the sewing machine to wear more quickly, become tighter, and ultimately cease up. You can prevent damage and greatly increase the lifespan of your machine by regularly lubricating it. But which oil do you use?

Sewing machines require a specific type of oil. Using the wrong sewing machine oil can result in poor performance and even damage to your machine.Sewing machine oil is an odorless, light transparent synthetic lubricant. Sewing Machine oil a petroleum product with specific additives that increase its lubricating properties. The viscosity and lubricating properties of the oil ensure that it fully and properly lubricates the moving metal parts of the machine.

It is important to understand that other types of oils are not adequate for sewing machine lubrication. Plant based kitchen oils do not have the lubricating properties of petroleum-based machine oil. Motor or Engine oils are manufactured to perform at elevated temperatures and contain many additives that can gum up sewing machine parts. Products such as 3 in 1 oil will evaporate over time and leave a tar like substance that will coat machine parts. WD-40 is not a lubricant. It is in fact a solvent that will remove grease and oils. The only type of oil to use in and on your machine is true, clear Sewing Machine Oil to keep your machine running at its best.

Sweet Stitches uses only top quality Sewing Machine oils, grease and gear lubricants when servicing your machine.
---
Quilters of all skill levels can find encouragement, inspiration and creativity at Sweet Stitches Quilt Shop. Located in Chesterton, Indiana just a few miles from the natural beauty of the Indiana Dunes National Lakeshore, Sweet Stitches Quilt Shop is your destination for fabrics, notions and all things quilting. We carry a wide variety of brights, batiks and reproduction fabrics as well as notions, patterns, books and Elna sewing machines. Our large classroom offers students everything they need to learn and grow their quilting talents. From fabric selection to project advice to training on your new machine, our friendly, knowledgeable staff is ready to assist. Stop by the store or click the "Shop Online" link to view our wide variety of products ready to ship direct to your door.
1585 South Calumet Road Chesterton, IN 46304
219.250.5942
www.sweetstitchesquiltshop.com

Follow Us on Facebook