Sweet Stitches Quilt Shop November 2018 Newsletter



SSQS Journal
Issue 15 November 2018
Hello Everyone,
We hope you are enjoying this Autumn as much as we are, the colors and weather have been so perfect this year. We can only hope the weather holds out as long as it can before those winter winds start to blow.
November is shaping up here at the shop as we have a few events in the works, some classes and scheduled time off with family on the calendar to enjoy the Thanksgiving Holiday.
First up on the calendar for November is our First Friday of the Month Demonstration Day on November 2 at 10:30 am - 11:30 am. Our theme this month is "Roll With It". I have lots of ideas and tips rolling around in my head to share with you and some helpful products on a roll that I think you are going to like too. Join us on Friday, it's FREE!
On November 10 we will celebrate Veterans Day, a day early, by hosting a Quilt of Valor Sewing event at the Shop. We plan on sewing Quilt of Valor Presentation Pillowcases on Saturday, November 10 from 10:00 am until 4:00 pm and we would love for you to sew one with us. All of the fabric, sewing supplies and machines will be provided by Sweet Stitches. Helpers will be in the classroom to guide you along the steps of making a pillowcase. Our pillowcases will be donated to the String- A-Long Stars & Stripes Quilt of Valor Sewing group to store and present Quilt of Valor Quilts. Come make a pillowcase and help give thanks to a Veteran for their service this Veterans Day. More information on this event can be found in this newsletter.
In November we will be visiting a couple of Quilt Guilds in our area. On November 8 we will be visiting String-A -Long Quilt Guild at their new meeting location at the Hawthorne Park Community Center, 500 Ackerman Drive, Porter, IN. The doors will open at 6:00 pm and the meeting will start at 7:00 pm. I will be giving a presentation on "Folded Fabric Fun" which was a Demo Day presentation I gave at the shop back in June but I have added new folded fabric ideas for this November 8 presentation. The String-A -Long Quilt Guild is a wonderful group of Quilters that I have been a member of since 2005. Visitors are welcomed to meetings so I highly recommend that you stop by and meet some new friends.
Our second guild visit in November will take us to Michigan City with the Dunes Country Quilters on November 15 at the Methodist Church of Michigan City, 121 East 7th St, Michigan City, IN. The meeting will start at 6:30 pm and I will be giving a presentation on all the fun and easy quilts you can make with the 60 Degree Triangle Ruler by Creative Grids. I will have tips on working with the ruler and lots of quilt projects. We will also bring our Sweet Stitches Pop Up Shop along too. We look forward to spending time with the Dunes Country Quilters.
On November 21, 22 and 23, Sweet Stitches will be closed to spend time with family during the Thanksgiving Holiday. We will be open again on Saturday, November 24 for Small Business Saturday which was created to help promote "Shopping Local, Shopping Small Business". We have a few special things planned for that Small Business Saturday so stay tuned to your email and our Facebook page for the specials that will be announced as the day draws near.
Let me end this November letter, in this season to be thankful, by Thanking all of you that have shopped our store this year, who have taken classes, enjoyed our sewing seminars, who have supported us at shows and retreats, those who have come to our sewing events, our demo days or Free Sew Fridays - We are so thankful for all of you & your friendship! Happy Thanksgiving to you all!
May all your Stitches be Sweet,
Joan
---
First Friday November 2, 2018
Our First Friday in November Demonstration will be " Roll With It".
We are on a roll around here with fun ideas and we can't wait to share them with you.
Join us for this Free Demonstration at 10:30 am the First Friday of the Month.

---
In honor of Veterans Day and all those who served our country, Sweet Stitches Quilt Shop will host a Quilt of Valor Sewing Event. On Saturday, November 10 the shop will be open 10:00 am until 4:00 pm and we invite you participate and sew a Pillowcase for Quilts of Valor. All of the fabric, sewing supplies and machines will be provided by Sweet Stitches. Helpers will be in the classroom to guide you along the steps of making a pillowcase. All of the pillowcases made that day will be donated to the String-A-Long Stars & Stripes Quilt of Valor Sewing group. The pillowcases are used to store Quilt of Valor Quilts prior to and after they are presented to a Veteran.

Please join Sweet Stitches and the Stars & Stripes Group on November 10 and make a pillowcase to give thanks to a Veteran for their service this Veterans Day.


---
Small Business Saturday
The shop will be closed Wednesday, Thursday and Friday November 21, 22 and 23 for the Thanksgiving Holiday. We hope that everyone will enjoy time with family & friends, good food and some well deserved relaxation!
After the holiday, the shop will reopen at 10 am on Saturday, November 24th for our Small Business Saturday Sale.
We are thankful for all the support you give us as a family owned, small neighborhood business and to celebrate we have planned some great specials on all your quilting needs and Christmas wish lists.
Stay tuned for our Holiday Announcement later this month with all the details. Special deals on fabrics, patterns and notions as well as a drawing and machine specials.
---


Learn a new technique or refine your skills - Sign up for a class today! You can register for classes using our secure on-line portal or call or stop in the shop.
You can view our updated class schedule for November by clicking here.

---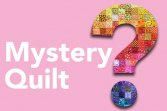 Middle of the Month Mystery

Just a reminder to all of you that are participating in our Mid Month Mystery Quilt - Clue Number Seven will be available on November 17. We will email clues to all participants and we will have printed hard copies of the clue available at the shop as of that same day.
---
Block of the Month - Mystical Prism
For those of you participating in our Mystical Prism Batik BOM, your Month 11 Block is now ready and available for pick up on or after November 1.
---
A Machine Minute

General Maintenance and proper technique are critical for optimum performance of your sewing machine and project outcome.


No need to Sweat when the Pressure is ON
To achieve top quality stitch results, one must understand proper pressure foot adjustment for your sewing machine. The pressure being discussed here relates to the amount of pressure that is applied to the presser foot against the fabric. This often-overlooked adjustment is critical to prevent stitching difficulties that can affect your project.
Pressure and the Presser Foot
The presser foot on your machine is designed to work in concert with the feed dogs to smoothly draw the fabric under the needle at just the right speed to produce a proper stitch. The presser foot must provide just enough pressure to keep the fabric steady while the needle is in the down position and allowing the feed dog to draw the fabric once the needle is raised.
For best results, you may need to adjust the pressure to accommodate different types and weights of fabric so the feed dogs can work smoothly.
Problems with Pressure
You may experience a few problems when the pressure setting is not properly adjusted. If presser foot pressure is too low, the fabric may slide under the foot which will make it difficult to sew in a straight line. When the pressure is too high, the feed dog cannot freely move the fabric forward. The fabric may bunch and the stitches become too close together. When fabric is advanced unevenly by feed dogs, this may be an indication that the pressure needs to be adjusted.
Adjusting Presser Foot Pressure
Most machines have a pressure adjustment knob or dial, while electronic machines may have a setting within software that sets the pressure by way of a motor. Manual knobs are usually located either on top of the machine or on the side. Based on the symptom, you should increase or decrease the pressure until the fabric feeds correctly. Finer and lighter weight fabrics may require a slight increase in pressure, while thicker and heavier fabrics typically demand a slight reduction in pressure. Because every situation is different, it is best to experiment to find the setting that produces the best result.
Occasionally, fabric feeding issues may have other causes; however, it is best to adjust your pressure setting first. If issues like uneven feeding of multiple layers of fabric persist, you may consider a walking presser foot. Walking feet are designed to feed numerous layers at the same time by the addition of an upper feed dog. This type of foot reduces shifting to ensure layers are properly stitched. If you are working with vinyl or other materials that may stick or bind to the presser foot, a slippery Teflon foot or a roller foot will usually correct the issue.
Ensuring proper presser foot adjustment is essential for achieving the best results from your machine. Although most machines are initially set to a midpoint pressure that works well with most fabric, you must recognize that fabric type, thickness, dissimilar layers may all contribute to conditions that require adjustment. Many stitching and seaming problems can be avoided by paying close attention to this important detail and always working with the right pressure!
---
Quilters of all skill levels can find encouragement, inspiration and creativity at Sweet Stitches Quilt Shop. Located in Chesterton, Indiana just a few miles from the natural beauty of the Indiana Dunes National Lakeshore, Sweet Stitches Quilt Shop is your destination for fabrics, notions and all things quilting. We carry a wide variety of brights, batiks and reproduction fabrics as well as notions, patterns, books and Elna sewing machines. Our large classroom offers students everything they need to learn and grow their quilting talents. From fabric selection to project advice to training on your new machine, our friendly, knowledgeable staff is ready to assist. Stop by the store or click the "Shop Online" link to view our wide variety of products ready to ship direct to your door.
1585 South Calumet Road Chesterton, IN 46304
219.250.5942
www.sweetstitchesquiltshop.com

Follow Us on Facebook