Sweet Stitches Quilt Shop October 2018 Newsletter


SSQS Journal
Issue 14 October 2018
Hello Everyone,
September flew by in a blink of an eye and now it is pumpkin season! October is one of my favorite times of the year because the weather has cooled down, the mums and pumpkins decorate the neighborhood porches and the smell of apples, cinnamon and pumpkin baked goods fill the air!
We will start the month of October by heading down to Kokomo for the Quilts Along the Wildcat Quilt Show put on by the Kokomo Piecemakers Quilt Guild. The Show is October 5 & 6. (that is a Friday & Saturday Show) This is Kokomo Piecemakers 25th anniversary and they will have 300 quilts on display, as well as Susan Cleveland, quilt designer, author, teacher and inventor, will be featured. She will present programs, workshops, demonstrations and lectures during the two-day event. There will be a 25th Anniversary Quilts Challenge, cancer awareness quilts, bed turnings, and 20 vendors. The show will be held at the Kokomo Event & Conference Center, the same place the Kokomo One Stop Shop Hop is held each year.
Because we will be at the show in Kokomo on the First Friday of the month, we are moving our First Friday Demonstration to the second Friday October 12 at 10:30am. We will talk "Trimming the Table" with holidays coming up the next three months. We will talk about tablecloths, placemats, table runners, bowls and baskets that can be fun projects for your entertaining or gift giving. On October 7th (Sunday) we look forward to visiting the String-A-Long Quilt Guild annual retreat at Camp Friedenswald in Cassopolis, Michigan. We will be giving Demos on some new products, we will also have a fun Make & Take project and the Sweet Stitches Pop Up Shop will be there too! This is just the first week in October so be sure to check out our October Calendar on our website for what we have in store for the rest of the month.
May All Your Stitches Be Sweet,
Joan
---
Our October First Friday Demo Day is MOVING!

Demo Day in October is moving to October 12
when Joan will present "Trimming the Table"

Table Runners, Toppers, Place Mats, Bowls
and Baskets for holiday and everyday use!
Please mark your calendars.
Demo Day will be back to it normal First Friday spot in November!
---
Sweet Stitches Now Carries Quilter Dream Batting
Quilters Dream Batting is a US manufactured product known for its strength, quality and consistency. Sold only in independent specialty quilt and sewing stores, Quilters Dream has a reputation as one of the best sources of batting in the industry. With a variety of lofts, fibers and colors that allow quilting as close as you would like or up to 8" - 12" inches apart, this batting provides a freedom of design that is not available with other batting materials. Stop by the shop to see the product line and test it out for yourself.


---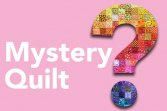 Middle of the Month Mystery

Just a reminder to all of you that are participating in our Mid Month Mystery Quilt - Clue Number Six will be available on October 20. We will email clues to all participants and we will have printed hard copies of the clue available at the shop as of that same day.
---
Block of the Month - Mystical Prism
For those of you participating in our Mystical Prism Batik BOM, your Month 10 Block is now ready and available for pick up on or after October 1.
---
Learn a new technique or refine your skills - Sign up for a class today! You can register for classes using our secure on-line portal or call or stop in the shop.

You can view our updated class schedule for October by clicking here.

---
Starting in October, the shop will revert back to our normal business hours:


M, T, W, Th
10am - 5pm
Fri, Sat 10am - 4pm
---
A Machine Minute

General Maintenance and proper technique are critical for optimum performance of your sewing machine and project outcome.


Decorative Stitches ...
Give 'em Room, Support and Time and they will Shine!
Decorative stitches are a great way to embellish your projects as they provide a nice finishing touch and detail that can make all the difference in your sewing project.
To get the most out of your sewing machine and its decorative stitches, it is important to use the correct foot, fabric configuration and machine settings.

Give 'em room - In order to allow your decorative stitches to from correctly it is best to use an applique foot. (in the elna world this is the F or F2 foot) This foot resembles a sled with runners on either side that allow the stitch that is being formed to smoothly slide under the foot. This is especially true for the dense satin stitches. The applique foot also allows the fabric to move easily both forward and backward when creating a complex stitch such as a pictograph.

Give 'em support - Decorative stitches are generally wider, are more complex and use more thread than simple utility stitches. As a result of this, if you sew on fabric alone, it will often pucker when using a decorative stitch. In order to obtain a quality outcome, you will need support in the form of a stabilizer. There are many types and options when it comes to stabilizers (batting may be an option) but what they provide is additional support that will allow the decorative stitches to lay flat and not pull on the fabric.

Give 'em some time - When compared to a common utility stitch, your needle is covering much more area when running a decorative stitch. This means that it will take longer to cover the same linear distance. If you try to sew a highly complex stitch at top speed, the quality will suffer. When using decorative stitches run your machine a little slower and let those feed dogs do their job, don't push, simply guide and let the machine move the fabric through.

Go ahead, give those decorative stitches a try. If you follow these simple guidelines your results will speak for themselves!
---
Quilters of all skill levels can find encouragement, inspiration and creativity at Sweet Stitches Quilt Shop. Located in Chesterton, Indiana just a few miles from the natural beauty of the Indiana Dunes National Lakeshore, Sweet Stitches Quilt Shop is your destination for fabrics, notions and all things quilting. We carry a wide variety of brights, batiks and reproduction fabrics as well as notions, patterns, books and Elna sewing machines. Our large classroom offers students everything they need to learn and grow their quilting talents. From fabric selection to project advice to training on your new machine, our friendly, knowledgeable staff is ready to assist. Stop by the store or click the "Shop Online" link to view our wide variety of products ready to ship direct to your door.
1585 South Calumet Road Chesterton, IN 46304
219.250.5942
www.sweetstitchesquiltshop.com

Follow Us on Facebook