SSQS Journal July 2018


SSQS Journal
Issue 11 July 2018
Happy 4th of July!




Hello Everyone,
A lot of quilters put aside their quilting for the summer, but with these temperatures, I know a lot of you are spending your air-conditioned days in the sewing room. With two more months of summer to go, I think a lot more quilting will get done especially if this heat sticks around. I have never been one that stops quilting in the summer months because, despite spending most of my youth on a farm, I'm not really an outdoors or gardening type of girl. My need to create and to make quilts does not stop just because it gets a little warm out and it is a good thing too because when you have a quilt shop the making of quilt samples never ends. Most of the time you can't sew quilt samples fast enough it seems. We are always trying to have plenty of samples for you to see and we bring in new patterns and fabrics all throughout the year to inspire you. The same goes for our classes. Our goal is to bring you classes that teach new skills, encourage you to attempt something out of your comfort zone or is just a fun project to make with friends. We always like to hear your suggestions on what you would like to learn or a quilting skill you want to try so share those with us when you stop in the shop or send me an email. Our classroom is open on Fridays for you to get out of the house, meet other quilters, to get some inspiration and encouragement and of course get some help with your projects if you need it. We have irons, cutting mats, a design wall set up for you to use and the classroom is air conditioned too! Don't let the heat keep you from quilting, creating and making. Stop in the shop for some cool summer quilting inspiration!
May all your Stitches be Sweet,
Joan
---
One Stop Quilt Shop Hop
July 27 and 28, 2018
Are you up for a mid summer road trip? The One Stop Quilt Shop Hop featuring 29 Quilt Shops under one roof will be held at the Kokomo, Indiana Event and Conference Center July 27 (9-5), July 28 (9-4). Plenty of vendors, demos, games, prizes and inspiration all in one place.

Sweet Stitches will be there and we hope to see you as well !

If you need any additional information, we have fliers at the shop or please call or email.
---
Summer Sewing Education Seminar
to be held at Sweet Stitches
Sweet Stitches is hosting a Summer Sewing Education Seminar August 1 - 4 featuring National Sewing Educator and speaker Amy Meek. Amy, a native of Chesterton, has taught and trained across the U.S., Mexico and Europe. Amy is looking forward to her visit to her home town to see old friends and to make new ones at Sweet Stitches.
Amy will conduct several lecture demo classes presenting how to get the most out of your sewing machine with quilting and specialty feet, decorative stitches and machine embroidery tips and tricks.

Quilting Feet - Amy will show you which feet will help you piece faster and more accurately. See what is trending with free motion quilting and ruler work. See how to make your machines throat plate a quilters best friend and learn how to use your quilting feet for best effect.

Feet to be discussed:
> ¼' foot > Clearview ¼" foot > Blind Hem foot
> Walking foot > New ¼" foot > Convertible Free Motion Foot

> Ruler Foot > Machine Rulers

Decorative Stitches - You can't have enough stitches, the more the merrier!
Learn how to use decorative stitches to your advantage; why you need different
needles and how to use decorative threads in your quilting
.
Specialty Feet - Attach your glitz and embellishments to your projects with specialty feet. Learn how to use a ruffler for your gathering and ruffles. Learn how a gathering foot works. Find out how a borderguide foot will help you keep your lettering straight. See how an applique foot will let you steer in the right direction. She will talk needles, bobbins and threads too!

Feet to be discussed:
> Beading Feet > Ribbon Sequin Foot > borderguide foot

> Snap on Ruffler > Gathering foot > applique foot


Machine Embroidery - Learn the latest tips and techniques for your home machine embroidery projects. Learn h
ow to incorporate and quilt on your embroidery machine. Discover what all an
embroidery machine can
make in the hoop!


More information on this Summer

Sewing Education Seminar

will be provided over the next few weeks. We will send an update email as well as provide information on our Facebook page with class times and agendas. Mark your calendars for August 1 through 4, 2018 so you don't miss out.

and we also have some great cotton t
---
Easy No Measure Bargello - First Friday Demo
Friday July 6th is Demo Day
This month's topic is "Easy No Measure Bargello".

Joan will demonstrate this easy and fun Bargello Pattern that she has elected to create in bright and vibrant colors. Stop in to see Joan's sample and learn how to piece this quilt without all that math!

The demonstration begins at 10:30AM in the classroom.

Immediately following the Easy No Measure Bargello Demo, Joan will provide a preview of this months Mystical Prism Quilt Block and provide a few tips and tricks to its construction.

Feel free to stay after and use the classroom for "Free Sew Friday" Bring your project and meet new friends while sewing on your machine or one of our elnas!


---
*** New Fabrics in the Shop this Month ***


"Precious Metal" by RJR Fabrics.
Pretty, Soft Black Metallic prints.
Wilmington Fabrics "Sunset Blooms".
Place Mat Panel with instructions.







Navy, Baby Blue, Cream and White

.


Wilmington Fabrics "Welcome Winter"



"Deck the Halls" by Windham Fabrics.
Red, Green and Cream with a touch of Gold Metallic.



"Winter Village" by Basic Grey
(the creators of Grunge Fabrics for Moda)
We restocked our Grunge shelves and
added 5 new colors too. Bison(Dark Brown) ,
Hot Chocolate(Red Brown) ,
Cabbage(Mint Green w/blue) ,
Elafin(the color of dried Corn), and Turquoise.
---
Row By Row 2018
"Sew Musical"

Sweet Stitches is participating in Row by Row again this year. Row by Row was founded by a New York State quilt shop owner, Janet Lutz, in 2011. Row by Row was created as a summertime shop hop that all brick-and-mortar quilt shops are invited to participate in. For each summer, a theme is selected and shops design an original "row" pattern. Patterns are provided free to customers who visit the shop during the summer months. Sweet Stitches, like most shops, also create and sell kits to accompany the pattern.
Since 2011, Row by Row has grown dramatically and today it is estimated that 3,100 shops across the US, Canada, and Europe will create a "row" this year and 1.4 million quilters will participate in the program across the world.
Through the summer months, quilt shops will have visitors traveling from near and far that collect the rows and associated fabric license plates. This year's program kicked off on June 21st and since then Sweet Stitches has welcomed a number of out of state travelers to Northwest Indiana from many corners of the US!
This year's Row, designed and crafted by Joan, follows the 2018 theme of "Sew Musical" with a Row titled, "Sew Rock and Roll" playing off the characters in her 2017 Row and the Sweet Stitches Logo Pin Cushion.
The Row by Row experience is a very good program that brings quilters to Brick and Mortar stores during the travel months. After the summer season ends, the shops are then permitted to sell the rows on-line. You can see the Sweet Stitches Row hanging at our checkout counter.

To learn more:
Row by Row Experience
Indiana Row by Row Facebook page


"Sew Rock and Roll"
by Joan Crookston

---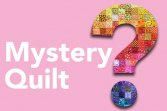 Middle of the Month Mystery

Just a reminder to all of you that are participating in our Mid Month Mystery Quilt - Clue Number Three will be available on July 21. We will email clues to all participants and we will have printed hard copies of the clue available at the shop as of that same day.
---
Block of the Month - Sadies Keepsake
Only TWO blocks to go! For those of you participating in our Hand Embroidery Block of the Month Sadie's Keepsake your Month 11 Block is now ready and available for pick up on or after July 2.
---
Block of the Month - Mystical Prism
For those of you participating in our Mystical Prism Batik BOM, your Month 7 Block is now ready and available for pick up on or after July 2.


---
---
We have evening classes on Wednesdays!!

---

A Machine Minute

General Maintenance and proper technique are critical for optimum performance of your sewing machine and project outcome.


Bobbin Whining
And you thought that was a typo. Yes, I meant 'whining'.
Bobbin winding is just one of those things that every quilter and sewist does nearly automatically, without much thought, it just needs to get done so you can keep sewing.
The quality of your stitch is directly impacted by the quality of your bobbin winding and several factors and bad habits can cause poor results.
1) Slow Down! The speed at which you wind your bobbin can impact its quality. Many folks run bobbins very quickly which is not a best practice. The speed the bobbin is wound is not nearly as important as the tension and uniformity of the wind. In fact, running a bobbin at very high speeds can introduce unintended twists and tension within the bobbin that can negatively impact its performance.
2) Use the correct bobbin for your machine. Just because they look nearly identical does not mean they are. Slight differences in geometry and size can greatly impact how the bobbin, bobbin case and hook race work together. They were designed as a mechanical team and for best results, keep the team together.

3) Bobbins do not last forever. Especially true of the plastic bobbins, they wear, they can develop burrs and over time they can impact performance. Most new bobbins are very inexpensive and will last through many uses, just not indefinitely.
4) Do not over fill your bobbins. Do not be tempted to sew as long as you can with one bobbin. Exceeding the maximum fill of a bobbin (which is generally just shy of the outer edge) can cause non-uniform winding, variable tension and risk unintended thread droop within the bobbin case. None of which will help your stitches.
5) Cut the tail. Whether you are pulling thread through a guide hole or using a tension cutter to 'thread' the bobbin, be sure that you do not leave a long tail of thread. This tail can impact the top threads movement around or over the bobbin.
6) Insert your bobbins so they spin in the correct direction. If you are unsure on how your bobbin is to be oriented, consult your sewing machine owner's manual or check with your favorite quilt shop!
7) After you run a bobbin, give it a squeeze. If you squeeze against the thread of a properly wound bobbin it should feel tight, nearly solid. If the thread feels mushy, springy or loose, your bobbin will not perform well.
Take care to attend to the details of bobbin winding and you will avoid 'bobbin whining'.
---
Quilters of all skill levels can find encouragement, inspiration and creativity at Sweet Stitches Quilt Shop. Located in Chesterton, Indiana just a few miles from the natural beauty of the Indiana Dunes National Lakeshore, Sweet Stitches Quilt Shop is your destination for fabrics, notions and all things quilting. We carry a wide variety of brights, batiks and reproduction fabrics as well as notions, patterns, books and Elna sewing machines. Our large classroom offers students everything they need to learn and grow their quilting talents. From fabric selection to project advice to training on your new machine, our friendly, knowledgeable staff is ready to assist. Stop by the store or click the "Shop Online" link to view our wide variety of products ready to ship direct to your door.
1585 South Calumet Road Chesterton, IN 46304
219.250.5942
www.sweetstitchesquiltshop.com

Follow Us on Facebook