Sweet Stitches Quilt Shop June 2018 Newsletter


SSQS Journal
Issue 10 June 2018
Hello Everyone,
Summer is here and that means more time outside and less time in the sewing room for most but we can still fill that itch to sew during the summer without taking on big quilting project. A new brightly colored table runner for the summer picnic table, new placemats & napkins for those summer BBQ's on the deck, some hand embroidered towels to give as hostess gifts for those summer cookouts with friends and a new tote bag to take to the beach or pool are all great summer sewing projects. We have three new table runner books in the shop, a new easy pattern for coordinating placemats and napkins and we also have some great cotton towels for embroidery.
June also means its Row by Row Experience time and that is music to our ears because this year the theme is "SEW MUSICAL". Row by Row will officially start June 21, the first day of summer and Sweet Stitches will be participating once again. Row by Row has always been 9" x 36" sized row but this year there will be new row shapes and sizes out there to choose from. I am almost done creating this year's row and can't wait to share it with all of you. If you are not familiar with Row by Row here is how it works:
Have fun traveling, shopping and collecting as many different patterns as you like during the RxR collecting period, June 21–September 4, 2018.
Be the first person to bring a finished (quilted, bound, labeled) quilt using at least 8 different rows from 8 different participating stores into a participating quilt shop and receive a bundle of 25 beautiful fat quarters. Bonus gift/s can be given to those who include the shops row in their quilt.
You can learn more about the Row by Row Experience - Click here.
You can follow the Indiana Row by Row Facebook page - Click here.
May all your Stitches be Sweet,
Joan
---
Folded Fabric Fun - First Friday Demo
Friday June 1st is Demo Day
This month's topic is "Folded Fabric Fun".

Joan will demonstrate easy, fun and interesting options to create designs using a fabric folding technique.

The demonstration begins at 10:30AM in the classroom.

Immediately following the Folded Fabric Fun Demo, Joan will provide a preview of this months Mystical Prism Quilt Block and provide a few tips and tricks to its construction. This month we are back to two small outer blocks called "Shimmer"

Feel free to stay after and use the classroom for "Free Sew Friday" Bring your project and meet new friends while sewing on your machine or one of our elnas!


---
*** New Fabrics in the Shop this Month ***
From Andover Fabrics/Makower UK is Silent Night
in cream, red, green with metallic
gold dots and snowflakes
Favorite Grunge Colors are back. Scarlet,
Pool, Ocean and Cream.






108" Wide Back Fabric "Off the Grid" by P&B Textiles
This is one you just have to see!
Elegant Christmas from Blank Textiles. Swirling
Snowflakes in shimmering silver metalic




From Blank Textiles "Too Cute to Spook"
---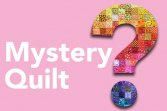 Middle of the Month Mystery

Just a reminder to all of you that are participating in our Mid Month Mystery Quilt - Clue Number Two will be available on June 16. We will email clues to all participants and we will have printed hard copies of the clue available at the shop as of that same day.
---
Block of the Month - Sadies Keepsake
Only a few blocks to go! For those of you participating in our Hand Embroidery Block of the Month Sadie's Keepsake your Month 10 Block is now ready and available for pick up on or after June 1.
---
Block of the Month - Mystical Prism
For those of you participating in our Mystical Prism Batik BOM, your Month 6 Block is now ready and available for pick up on or after June 1.

---
You can view our class schedule for June by clicking here.


---
---

A Machine Minute
General Maintenance and proper technique are critical for optimum performance of your sewing machine and project outcome.


"I think I have a tension issue, my thread keeps breaking."
While working on and with machines as we do, we hear this concern often. And while yes, tension issues can lead to thread breakage, more often than not, the issue is solved with a new or different needle. The correct type and size of needle is key to smooth sewing. So why is it that the needle is so important? The thread feeds off the spool and travels through the machine and then through the eye of the needle and into fabric, right?
Well, the reality of how your thread moves through your machine, needle and fabric is far more involved than you might think. The fact is, your thread travels back and forth through the eye of the needle and will even be pulled into and out of the fabric many times before it is incorporated into a stitch. Depending on the stitch length, your thread can seesaw through the eye of the needle as many as 15 to 20 times. Therefor, if a damaged or worn needle or a needle with an eye that is too small for the thread is being used, friction, wear and failure (the thread breaks) will result. Using a needle with an eye that is too large for the thread also has a downside in that the thread will wobble around in the eye which can cause skipped stitches.
If you would like to prove to yourself that your thread is seesawing back and forth and gain an appreciation for the high impact nature of your thread and needle combination, try a little experiment. Thread your machine with light colored thread. Take a black marker and make a one-inch long mark directly on the thread near to the take up lever. Be sure to make the mark dark so you can clearly see it on the thread. Now run your machine at its slowest setting using a long straight stitch. As you carefully sew, keep your eye on the black mark. You will see the mark move down and back up with the movement of the take up lever. Remember that your thread must make its way around the bobbin which requires a length of thread. It is then the job of the take up lever to pull this excess thread back up creating the stitch and thus the thread will seesaw back and forth. As you follow the progress of your black mark, you will see the line move down and move into and out of the needle and into and out of the fabric until it is incorporated into the seam. After performing this experiment, you will have a new understanding and appreciation for the impact that the correct matching type and size of your needle and thread will have.
Consider a new needle first if you are having thread breakage, nesting or are seeing skipped stitches.

---
Quilters of all skill levels can find encouragement, inspiration and creativity at Sweet Stitches Quilt Shop. Located in Chesterton, Indiana just a few miles from the natural beauty of the Indiana Dunes National Lakeshore, Sweet Stitches Quilt Shop is your destination for fabrics, notions and all things quilting. We carry a wide variety of brights, batiks and reproduction fabrics as well as notions, patterns, books and Elna sewing machines. Our large classroom offers students everything they need to learn and grow their quilting talents. From fabric selection to project advice to training on your new machine, our friendly, knowledgeable staff is ready to assist. Stop by the store or click the "Shop Online" link to view our wide variety of products ready to ship direct to your door.
1585 South Calumet Road Chesterton, IN 46304
219.250.5942
www.sweetstitchesquiltshop.com

Follow Us on Facebook